BESPOKE HOME SECURITY OPTIONS
Suprisingly, there are many products available that can be used to provide comprehensive home security. When assessing options for bespoke home security, there are a number of products that can be considered:
Security doors – these would cover designated points of entry to the property, and can provide an effective security solution.
Security rated glazing – could involve the replacement of existing glazing and there is no element of visual deterrent. Opening windows could also be a weak point.
Security grilles – can be an effective and more budget way to protect a home. Working grilles into the visual designs of the house can also be more challenging.
Security shutters – with the correct system and provider can be intelligently concealed within the fabric of the building and linked to Building Management System (BMS) to provide seamless control.
Clearly, security rated roller shutters are not always necessary for all home projects.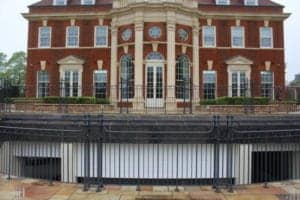 A growing number of property protection products, including roller shutters, are security tested by the Loss Prevention Certification Board (LPCB) to a range of security ratings. The Loss Prevention Standard (LPS) 1175 is becoming increasingly recognised amongst security consultants, specifiers, risk managers and property owners as it provides a framework to assess products against an identified risk. In residential applications, the most frequent security level from the standard is SR2 – this provides resistance to a deliberate attempt at forced entry using bodily force and a wide selection of hand tools.
However, there is a growing use of them in specific environments and styles of property:
City centre properties where crime rates can be higher
Properties with known valuable content – artwork, jewellery etc.
Homes of VIP's / sports personalities where schedules and diaries are public knowledge
Diplomatic and executive protection for key personnel and their families
Holiday and low use homes including coastal protection on out of season times
EQUILUX SECURITY RATED ROLLER SHUTTERS – BESPOKE HOME SECURITY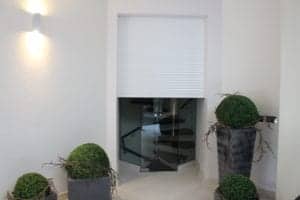 The Equilux range of shutters have a number of unique features, making them particularly suited to the luxury residential sector:
The base material of the shutters is aluminium, so the product is both strong and compact. This allows them to provide maximum protection without impacting visually on the property.
The unique LockDown security system secures the shutter in any position and does not require the use of any key locking to reach full security integrity. With LockDown it is not possible to leave the shutters in an insecure position or compromise the security integrity by only partially closing.
A range of profiles allows natural ventilation and light through the shutter with full blackout through fully closed shutters.
Bespoke and specialist finishes mean that the shutters blend with both external and interior design.
Intelligent motors and controls interface with most major BMS, fully integrating the shutters into the operation of the building.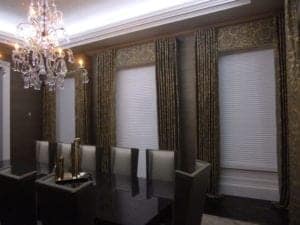 FOR FURTHER INFORMATION ON BESPOKE HOME SECURITY
If you require further information on bespoke security shutter options, why not take a look at our guide? To download, please click below.