"COVID-19 is the biggest challenge to policing since the Second World War".– Richard Walton, former Metropolitan Police officer.

Crime rates from 2019 to 2020 were already worrying figures on their own. But with the enforcement of lockdown, these numbers are expected to increase due to empty/unoccupied properties becoming more common.
There have already been several reports of theft and vandalism on homes, schools, restaurants and supermarkets within only the first week of lockdown.
Times of change & uncertainty require practical and viable physical security solutions. Identifying risks and securing property during lockdown are essential tasks for owners/managers.
INSIGHTS AND TIPS ON PHYSICAL SECURITY DURING LOCKDOWN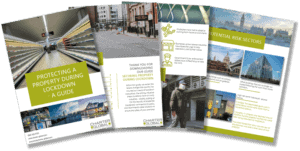 Within the guide, we review the repercussions of lockdown regarding the safety of premises, and we provide highlights on viable physical security solutions.
Even with tough conditions of social distancing, we strive to keep providing valuable knowledge on security to all who can benefit from our service & expertise.
So, within the guide, we've included a link to set up a video call with our security specialists to discuss concerns and see how we may help.
Guide main points:
Lockdown conditions and effects
With more people having to stay home and fewer walking on streets, burglars have a better chance of going by undetected and have an increased amount of time to break into premises and steal goods before a response mechanism can take action.
High-risk sectors
During lockdown, reasons for breaking and entering don't come down to just high-value goods anymore. High-risk targets range from schools, office buildings, homes, commercial and retail properties.
Physical security solutions
Vacant & unprotected properties are attractive to thieves who are looking for easy access. The best way to protect your premises is to prevent it from becoming a target in the first place.
It begins with making sure all doors and windows are in top conditions and securely locked, following through with visual deterrents such as lights, alarms, and CCTV, and most importantly, investing in recognized security standard products.
Ensuring staff are safe is also a priority, so measures such as social distancing screens should be investigated.
Video call scheduling
Set up a video call with our security specialists to advise you on physical security concerns.