Situated on the tranquil banks of the River Thames near Marlow, Buckinghamshire, sophisticated home security measures were required for this beautiful new build retreat.
Physical reinforcement measures for high specification residential properties differ from that of commercial premises in several ways. The most obvious being aesthetic – securing the family home to the standard of a military base would be detrimental to keeping a low profile.

Designing the residence against a specific threat is the most comprehensive way of ensuring a property is secure.
For standard products, securing a residential property to a high specification will compromise the property's unique look and feel; Charter Global, therefore, present bespoke solutions. Completely secure, low profile without ever compromising the ever-important aesthetic.
SECURITY CHALLENGES FOR LUXURY RESIDENCES
For properties that remain periodically vacant, security consultants may raise concerns about the level of security necessary. Property value, location and public profile of the client are also considered during these early stages of planning.
With strong connections with the capital, Marlow and similar super-prime countryside areas see the highest properties sales outside of London.
A consequence of being an affluent area, the risk for crime and intentional property damage is high.
Unoccupied for weeks on end, thorough home security measures would defend the property against intruders and provide the client with peace of mind. For this riverside property, over 20 bespoke Equilux Built-In Security Shutters were provided to physically secure each opening.
This case study allows us to show our readers the step-by-step process of how we work in integrating built-in shutters to a property by means of a real project we developed, starting from design, all the way through to finishes and controls.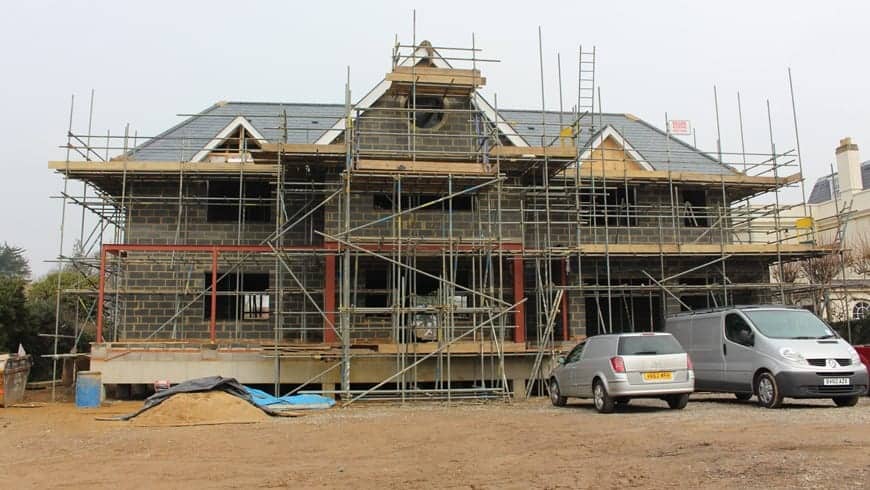 DESIGN
It started with our exceptional design team by producing bespoke working drawings, bearing in mind unique requirements for loads imposed on the lintels from the blockwork and brickwork and full wiring schedules to show the connection of push-button controls.
Our design team maintain a security-conscious approach through-out a project's development. Each project, therefore, receives a full tool kit of technical information.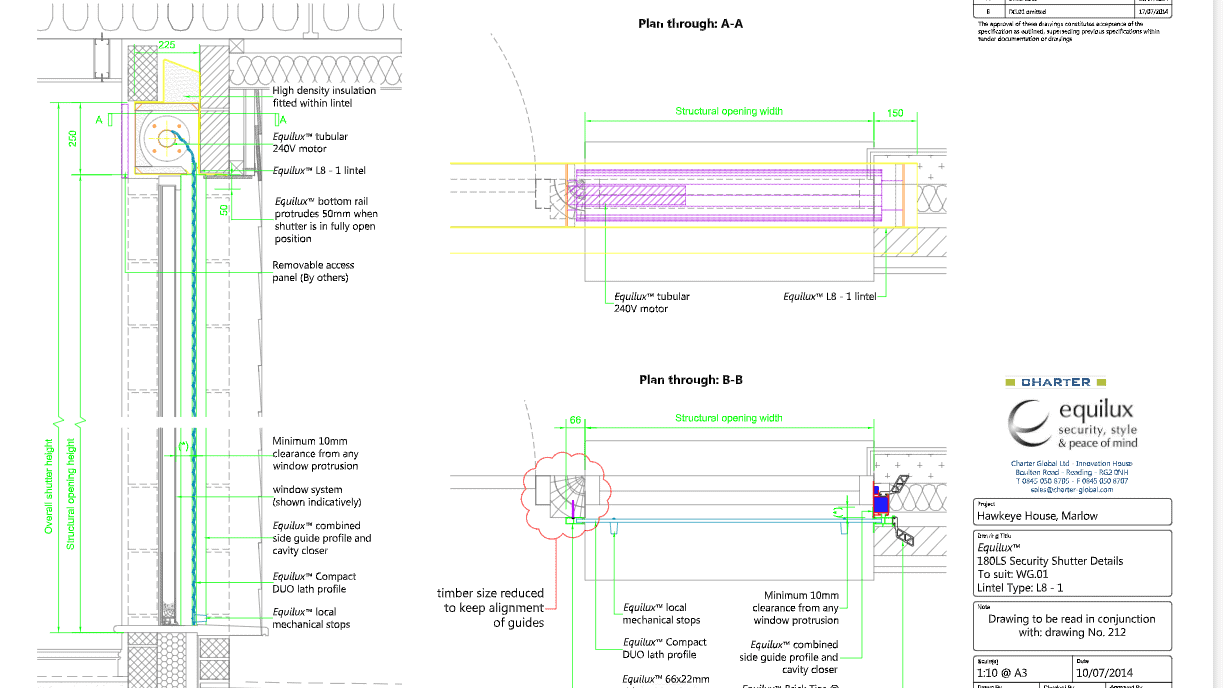 MANUFACTURE AND DELIVERY OF SIDE GUIDES AND CAVITY CLOSERS
Combined side guides and cavity closers were delivered to site with clear method statements to be tied into blockwork.
The side guides were recessed into the walls which allow the security shutters to be hidden from sight when open.
Cavity closers are an important step in the integration process because they act as a seal and contribute to preventing external water vapour, structural dampness, heat loss and condensation. These are fitted into cavity walls where windows and doors are located.
Cavity closers can be used in a range of different constructions, including masonry, timber frame and steel frame systems, and can be adapted to suit the cavity depth.
On the other hand, appealing to the aesthetic element of the project, all openings were provided with frame formers to ensure openings are kept square.
LINTELS
A lintel security shutter is a built-in solution for properties with requirements for an aesthetically-pleasing security measure.
The roller shutter barrel is engineered to lie within the structural lintel above an opening. Therefore the traditional unsightly headbox can sit neatly away within the lintel, remaining hidden from view until deployed.
For this specific project, the lintels were designed to bear the loads from internal & external leads and lined with high-density insulation, issued to site with clear method statements along with temporary access panels.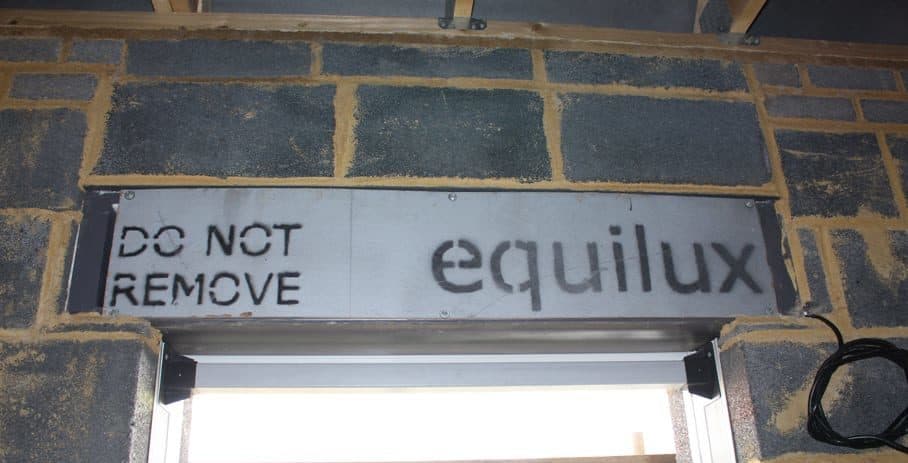 SECURITY SHUTTER INSTALL
Smart home technology can offer great benefits to a homeowner including motion detection lights, CCTV and access control options such as remote feedback on entry gate movement. However, these solutions generally mitigate any attempts at forced entry.
Physical measures including security shutters and security doors make it obvious from the kerbside that the property is reinforced. Therefore reducing the chances of the intruders being able to gain access.
For the riverside retreat, a number of home security options were discussed with both the client and the architect. Equilux Security Shutters were decided on as being the optimum method of security for their integration possibilities.
While the client is away from the property, the shutters provide an obvious yet not unappealing high-security protection to the house.
When open, the integrated nature of the structural lintel provides an unaltered view of the River Thames.
Working closely alongside the teams onsite enabled the security shutters to be concealed successfully and the shutter guide detail integrated into the traditional timber cladding.
Hidden internally and externally when raised, the shutters were provided in RAL 7047 matte grey to compliment the property's other features.
REMOTE ACCESS & ROUTINE MAINTENANCE
Equilux Shutters offer custom controls for all projects. Based on the client's requirements, the shutters were programmed to be controlled via a single master switch per floor. The bespoke stainless steel push buttons were issued with wiring schematics and diagrams.
When the property is occupied, the shutters are used daily as a blackout solution.
This system also addresses the usual issues of lintel design such as structural load-bearing, cold bridging and damp proofing.
As heavy-duty pieces of machinery, routine maintenance and servicing are vital. The image below demonstrates how access to the shutter barrel and motor is provided.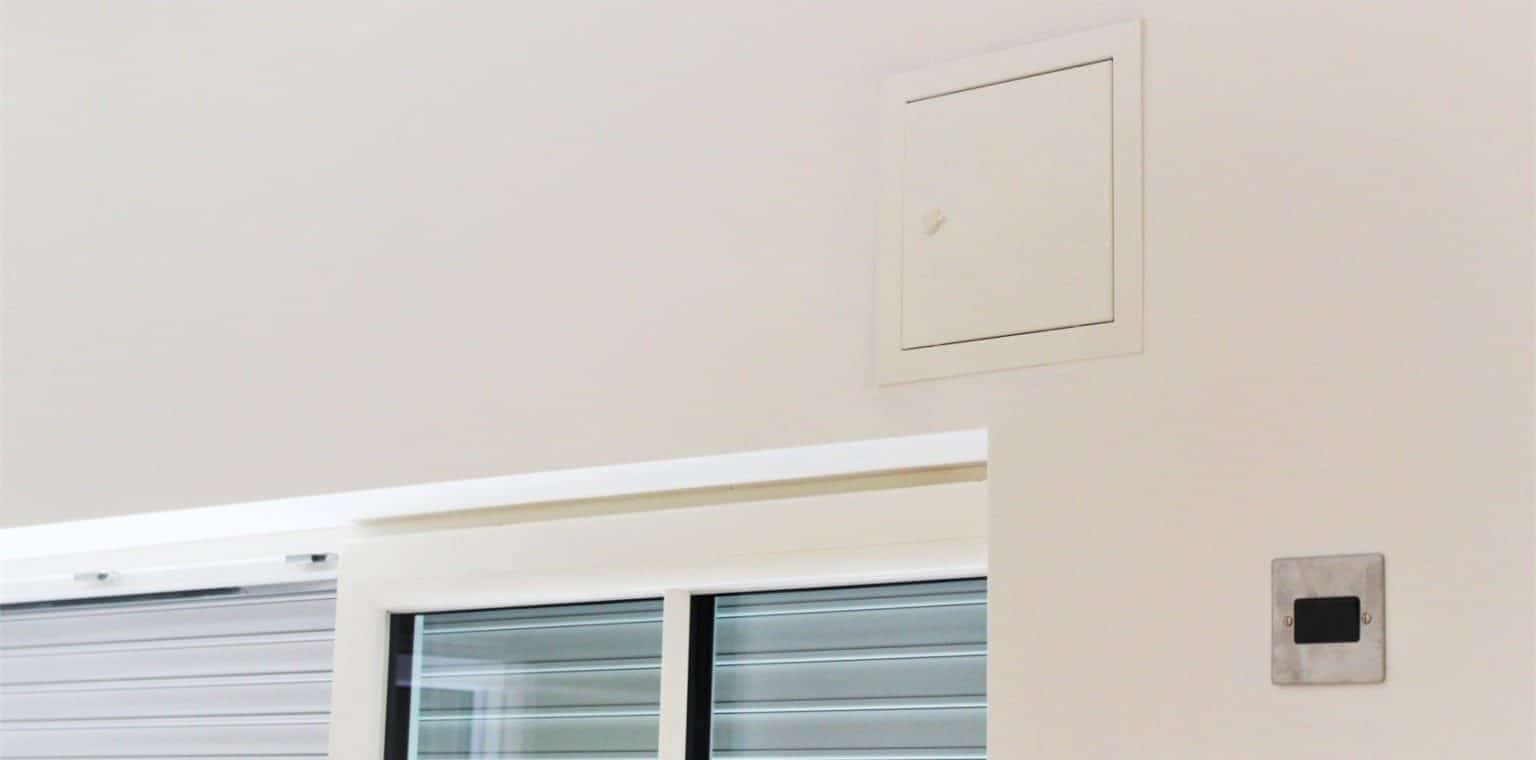 To access more Technical Information on the Equilux Shutter range, click the image below:
BESPOKE SHUTTERS FOR LUXURY HOMES GUIDE
Further information on luxury home security is available in our guide. To download, simply click the image below.