Exploring options on how to keep your home secure may be easy for some, but those with larger properties, or in crime-prevalent areas, may find it more complex to find the right residential security.
The need to keep your home secure
According to the independent crime data platform, UK Crime Stats, there were 33,084 burglaries in the UK in the 12 months leading to the end of April 2015 – that's a shocking 90 a day. A recent survey of 1,000 UK adults, commissioned by UIA Insurance, found that many victims of this upsetting crime never feel safe in their homes again. In fact, around a quarter of people felt so insecure after intruders broke into their home that they subsequently had to move house. The survey also revealed that the emotional impact of a burglary is heightened according to what was taken.
Although the cost of replacing items such as computers and televisions was covered by their home contents insurance policy, four in 10 of those surveyed said they had lost sentimental items which were of little monetary value but were 'irreplaceable' to them. These included family heirlooms, such as jewellery and ornaments, as well as family photographs.
Over a third taking part in UIA's survey said having someone break into their home had caused a huge knock to their confidence and a fifth struggled to be left on their own in the house. More than half were left feeling angry for months afterwards and many were unable to achieve closure, especially as the intruders responsible for more than two-thirds of the burglaries studied had avoided being caught or prosecuted.
Also, apart from the loss of practical and sentimental items, a quarter of people also experienced the distress of having their property 'trashed' following the break-in, as well as the inconvenience of damage to windows and doors. A smashed window was the most common method of gaining entry by criminals according to the study while breaking a door was the second most likely. All of which helps to paint the picture of why it's paramount to to keep your home secure and invest in thorough security.
How to keep your home secure
Delaying Tactic
Delaying criminals is one of the most important aspects of helping to keep your home secure. The longer it takes to get into your home, the more likely a burglar is to give up and move on. According to the NNWA a four-minute delay will protect your house in most cases. Installing home security shutters can provide that all-important delay.
Equilux shutters have been expertly and independently tested and certified to several recognised security levels; providing protection from sustained attack by professional intruders for durations from 3 minutes and above. As a further security benefit, shutters also prevent potential thieves from seeing items of value inside a property.
Home security solutions
Common options include enhanced security doors and windows with alarms, external lighting and CCTV. What do you choose when these methods aren't enough though? For ultra-prime residential properties, further options must be considered.
Physical security comes in many forms and with associated pros and cons. For example, sliding grilles are practical but not always the most aesthetically pleasing, particularly in a luxury property. Strengthened glass, although effective, still provides no visual deterrent, leaving a gap in the security solution.
Visible security cameras can act as an excellent detection device and allow the client to review and monitor the property remotely, as well as offering a deterrent to crime. However, CCTV and alarm systems do not provide any actual protection against a serious or opportunist attack on a property.
Outdoor lighting is another common security measure but will have limited impact on a remote property which has no near neighbours to observe the light being triggered by an intruder. Also, experience tells us that as light sensors are so often triggered by passing cats or foxes, for example, that no one takes any notice.
The additional physical barrier provided by domestic security shutters is definitely worth looking into.
Why Consider Home Security Shutters? Key Considerations.
Achieving optimum protection for a prestige home requires a combination of security measures. This combination needs to address each of the key security considerations – Detect, Delay and Respond – which form the three sides of what Charter Global calls the 'security triangle'. So when specifying a security package for a prestige home it's important to understand the various types of physical security and their role in the 'security triangle' or the property is likely to be left vulnerable.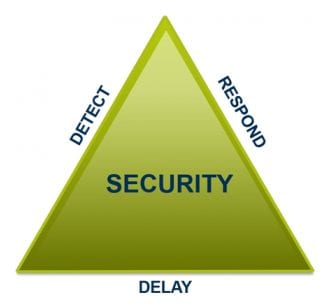 Charter Global boasts a wealth of experience in providing bespoke home security shutter solutions for the prestige residential market in London and around the country. Our extensive Equilux range offers discreet, built-in security roller shutters for all build types including contemporary and traditional. The system's bespoke roller security shutter mechanics can be integrated into the fabric of a building at new build or renovation stages for a totally concealed solution when the shutters are in the raised position.
Equilux home security shutters systems are automatically controlled to raise and lower, operated either by stand-alone controls or project building management systems. For more advice or information about specifying security shutters for prestige homes, or to arrange a CPD presentation, please call Charter Global's team on 0845 050 8705 or email [email protected].
Further information on how to keep your home secure
For more information on the different domestic shutter solutions Equilux offer and other tips to help keep your home secure, why not take a look at our free guide? Click on the below icon to download your copy.