Ensuring a store is secure is of great importance for all retailers – however concerns are elevated when it comes to securing a luxury retail premises.
Luxury retailers, by their very nature, house expensive goods that are often a desirable target for opportunists and those who plan severe attacks.
Securing a luxury retail premises can bring additional complexities and can often require more in-depth planning.
Although it's fair to say luxury retailers should still have anti-theft measures inside their store – the greater concern should be securing the exterior of the shop.
In June 2018, an exclusive Oxford Street jeweller, Watches of Switzerland, was the victim of a shocking robbery.
A group of 5 criminals rammed their bikes into the storefront in broad daylight on a busy Saturday morning.
Armed with machetes and hammers, the gang managed to seize an abundance of expensive goods before racing off.
The nature of the attack suggests that it was carefully devised and shows the extreme measures criminals are willing to take in order to succeed.
Although loss of stock experienced due to a robbery is a costly inconvenience, the bad press a brand can experience from break-ins can be detrimental to their status as a luxury retailer.
Attacks such as Watches of Switzerland also highlight the need for security measures to be put in place not only to protect goods and reputation, but also staff and customers.
Here are 4 common misconceptions about securing a luxury retail premises
1). Security measures won't stop intruders
Retail security measures come in all shapes and sizes. CCTV and alarm systems are becoming more intelligent, however they are only a visual deterrent, but will not physically prevent criminals from breaking in.
Criminals targeting luxury retail outlets will be concerned about the time-frame in which they can attack.
If they reach a potential target and believe it would take too long to get into the shop, they're far more likely to move on to another store.
In the event of a meticulously planned attack such as Watches of Switzerland, it's very likely that the store would've been scoped beforehand, to assess whether there were any gaps in the stores security.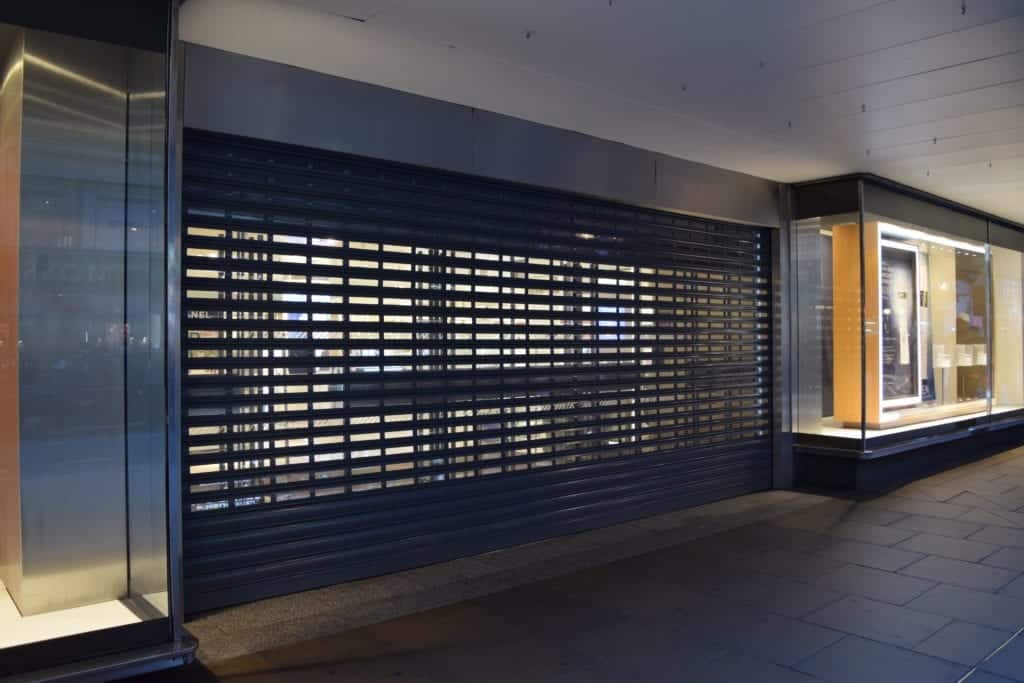 2). Security shutters are obtrusive and ruin the aesthetic feel of an exclusive retail store
Luxury retail security is a fine balance between ensuring the store has the best possible security whilst not detracting from the overall aesthetic feel of the premises.
The Obexion security shutter range comes with options to discreetly integrate the mechanism into the facade of the building to make sure that when raised, there is minimal disturbance to the look of the shop.
As for colours and finishes – the range is fully customisable and can be designed to be in keeping with brand colourings and surroundings when the shutter is deployed.
3). Perforated shutters cannot withstand attacks
For exclusive retail stores such as jewellers, where often retailers will keep stock in windows overnight, a solid shutter may not be a viable option.
As well as the more traditional shutter, we also offer a perforated version.
We find that this is a popular choice for high-end retail brands, as stock can be showcased at all hours, opened or closed.
A perforated security shutter means that even during the evening, customers are still able to browse the windows, whilst maintaining a high level of security.
Charter Global are the only company with perforated shutters at an SR2 and SR3 rating, which means that our shutters can withstand an attack of 5 minutes with a range of power tools.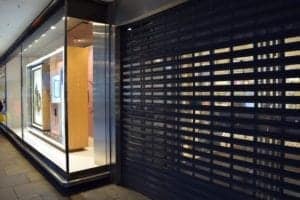 4). In the event of an emergency, shutters take too long to deploy
It's fair point to make that a standard shutter may not be able to be deployed quickly enough in an emergency situation.
At Charter Global, we've understood the concern of security professionals and have developed our RapiDeploy system that can be added on to our shutters.
RapiDeploy ensures a swift and total closing of the Obexion security shutter range, halves the time in which industry standard shutters can be deployed and can be used to enhance lockdown and emergency securing of commercial spaces, including exclusive retail stores.
Our RapiDeploy feature can be used on shutters from SR2 to SR4.
More information on securing a luxury retail premises
For further information about securing a luxury retail premises, including key considerations to make and products that we offer to protect a retail store, why not take a look at our guide?
To download the guide, please click below.