Community buildings are an integral to society
Protecting community property is increasingly important, providing much needed support to residences and the at-risk
Community buildings are important to the ongoing development of both rural and urban communities through-out the UK, though this very much a worldwide truth. Unfortunately, there are many who take advantage of community premises such sporting grounds and recreational centres, often for the quick cash opportunity. What appears to the common criminal as a victim-less crime has severe implications on the welfare of members of the community that rely on centres for support, a sense of belonging, educational resources and recreation. Community centres can very often be funded by a heartfelt community, making crime against these buildings to be considered crime against more than a single premises but rather against the whole community.
Find out how Charter Global can protect your community building
Somewhat unfortunately for security, the very nature of the community is to be open and welcoming. When securing any property, deterrence will always be a large part of the integrated solutions and the main element of this is obvious security measures. Securing the local community development to a standard of an application in the Financial Institution sector, for example, would be completely disassociating the property with its intended use and may very well put off its main audience from attending any events.
As with applications within the Education sector, community centres should represent a neutral space that can protect the community and its people, even in areas of high violence with gang affiliations. For this to be true, the community building itself must be secured against any all threats.

Download our guide on how to assess which security rating you need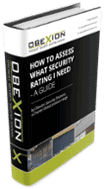 Download the guide
Associated risks
Community buildings are split by ownership and management; council owned and managed, council owned and community managed, community owned and managed. Unsurprisingly, the majority of UK community centres are community owned and managed with funding from a range of different areas, often coming up short on what is so desperately needed. Securing the property is therefore vital; money cannot be reallocated on reordering materials after a robbery.
Book a consultation to find out how we can assist you
For new build community projects, security measures should be considered at a very early stage. Complications arise once design decisions are settled on or structural plans are drawn up, without consulting a security specialist first. Following a risk profiling of all threats, the security measures needed for individual premises will vary, even similar applications.
An excellent resource here is the online crime prevention tool that allows searches by geographical location, providing information on crimes defined by severity. Consulting the local police department, specifically the Architect Liaison Officer (ALO) or Crime Prevention Design Advisor (CPDA), is also beneficial when looking to secure new-builds against opportunist and premeditated crime. ALOs will provide great support, and ultimately recommend the best course of action with consideration for all crime and design factors.
Building regulations and health and safety standards required for community buildings must also be adhered to, increasing the number of specialists on a project to include structural engineers and architects.
For existing and older properties, integrating the security measures to standard specified can be more challenging. Compromises on both security and aesthetic are to be expected, however if the property is also of cultural significance or a Heritage property, further regulations must be obeyed.
Common challenges when securing community buildings
As previously mentioned, community centres often must work within limited budgets. The security measures in place must be effective for ensuring continuity of services offered, protecting against both theft, vandalism and low-level sabotage. Vandals very often take advantage of the giving nature of community centres, ruining the experience for many for the thrill of the risk. Ensuring there are competent security measures that encompass all elements of the security matrix, are vital for the continued protection of community facilities against common criminals and opportunists out.
In locations that experience high volumes of violence, community centres are at risk of attack over territories of opposing gang affiliations. Another consideration is what the building will be used for.
Beyond the need for aesthetic, if the community building is to be used by religious groups there is high-risk of sabotage spurred by racial crime. Working tirelessly against the discrimination still rampant within the UK, there are numerous charities and government schemes in place to support communities including the Vulnerable Faith Institutions Scheme of 2017 and the Community Security Trust which is a dedicated charity that provides security advice and training for Jewish communal buildings and events.
For new build projects, architects are more regularly designing buildings that are self-sustaining and unique. Physical security measures are generally considered to interfere with this approach, however, Charter Global's brand Integr8 Shutters provides a unique, built-in approach to security. Specialising in projects for Community, Education, Commerce and Healthcare, Integr8 Shutters offer a specified structural lintel solution that combines high-level security without compromising on aesthetic. Integr8 Shutters are available up to LPS 1175, Issue 7, SR3, available in any RAL/BL colour. Through extensive testing methods of attack times versus tool type, security products with an SR rating are recognised industry-wide as quality, specified solutions.