So, you're currently searching for the best ways to protect a property's safety from intrusions and other hostile circumstances, potentially ram-raiding, and you've come across a variety of shutter models, all from different providers.
How can you know which one meets your security requirements?
How strong are these products, really?
We're proud to announce our recent achievement of the IWA 14 accreditation, an anti-ram certification. Here we'll explain in depth what the IWA 14-1 accreditation stands for & how our certified products will benefit your property's protection.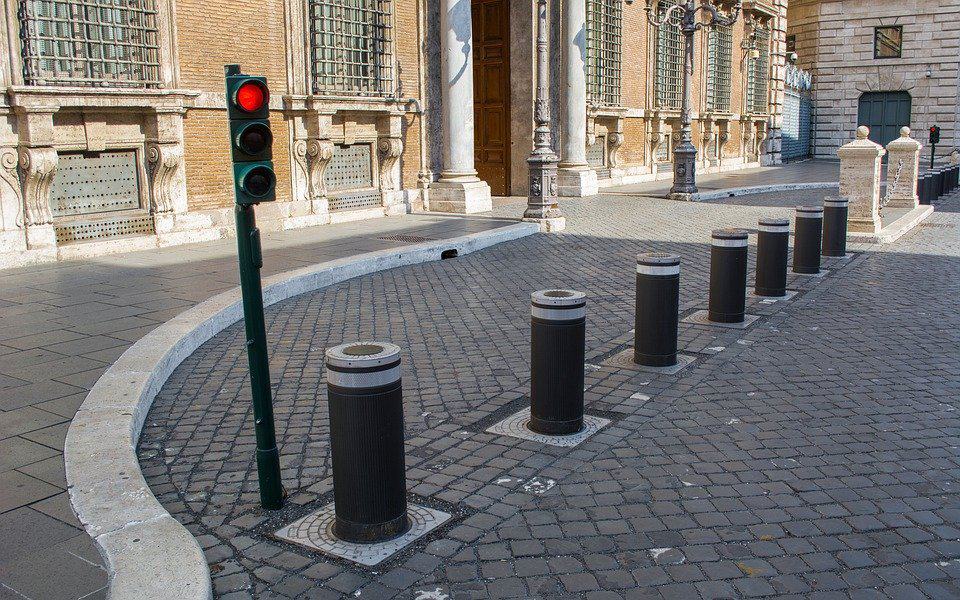 Occurring since the 1930s, ram-raiding is a crime involving a vehicle (car, van, truck or SUV) being crashed into windows or doors of a closed property with the aim to loot it.
High target victims include banks, shops, supermarkets, ATMs, retailers and more. Ram-raiding is not only a violent crime, but also extremely costly, leaving victims to face extensive property damage aside from stolen stock.
The UK has seen a rise in ram-raiding related crimes throughout the last few years. Attacks on UK cash machines by hostiles attempting to ram raid them have risen from 400 in 2014 to 841 in 2018, according to SaferCash.
Moreover, there were 125 attempted ram-raid thefts in the first quarter of 2019, suggesting this form of crime tendency won't be reducing in the near future.
WHAT IS IWA 14?
Essentially, it's an anti-ram rating, typically used to measure performance in bollards, road blockers & vehicle barrier systems; IWA 14-1 is a vehicle impact test standard.
IWA stands for 'International Workshop Agreement' and is considered to be the world's impact test standard, designed by contributions from the Centre for the Protection of National Infrastructure, British Standards Institute, the US Department of State and others.
The specific code shown within an IWA 14-1 accreditation details the process and conditions in which a performance test is measured.
Overseen by the International Organization for Standardization (ISO), our very own product was put to the test, and as a result we achieved accreditation to IWA 14-1:2013 Door V/2500[NIG]/32/90:1.0.
Our Anti-Ram Accreditation, Explained: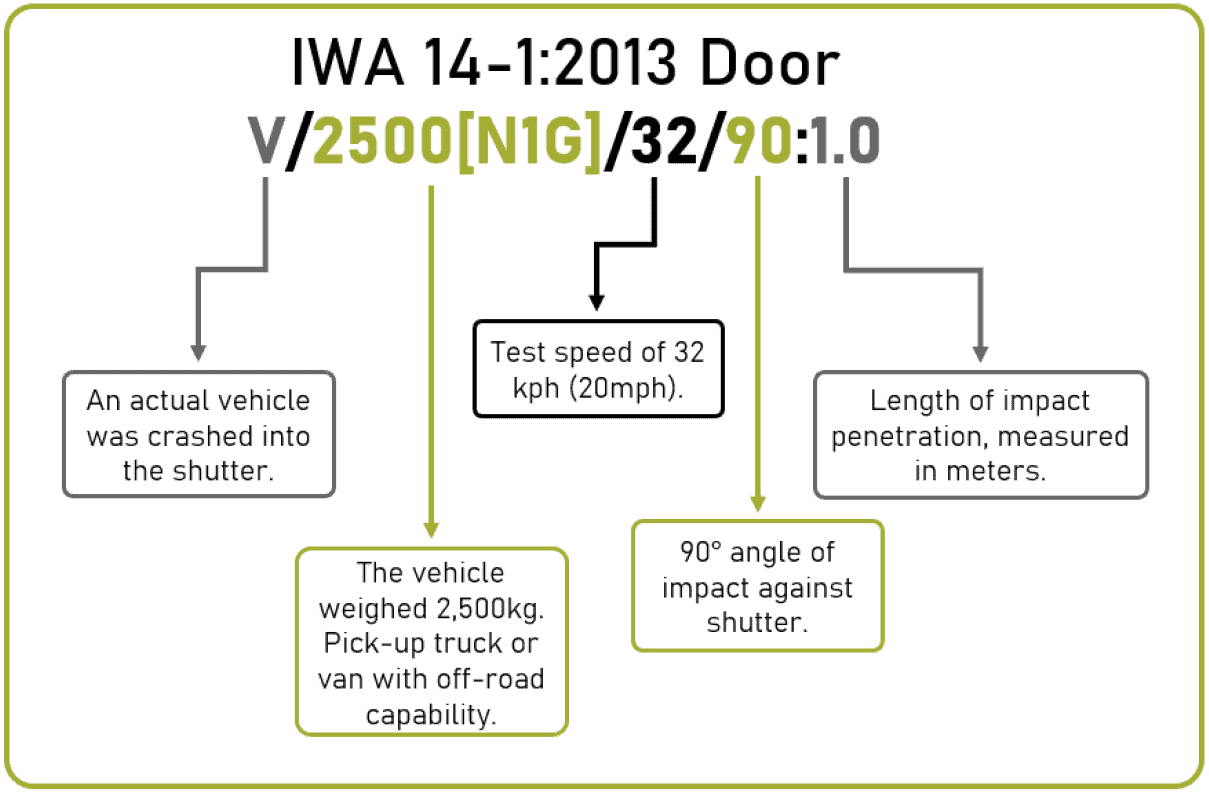 The impact penetration figure (1.0) shows how far in meters the load-carrying part of the vehicle travelled passed the datum line.
The datum line is the point from which vehicle penetration is measured. For the IWA 14-1 standard, this is the front of the product.
SIMULTANEOUS ACHIEVEMENT
Within a similar time period, our Obexion MDXR shutter was put to test by the Centre for the Protection of National Infrastructure and has been assigned a Vehicle Attack Delay Standard (VADS). The test evaluates Vehicle Security Barriers against aggressive & repetitive vehicle impacts.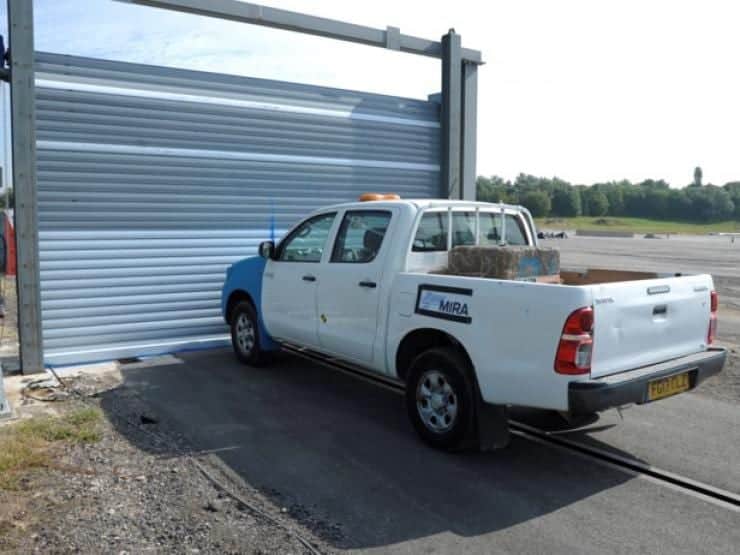 The standard differs from the IWA 14-1 in providing temporary event managers pragmatic, affordable & achievable levels of protection. For further information on the test parameters and applications of the standard, click here.
HOW CAN THIS HELP YOU?
Although a rare requirement, from time to time we receive an inquisitive client, possibly a security consultant or architect, among many others, who are interested in discovering if our products accomplish this level of impact protection.
In order to enhance property protection against ram-raiding crimes, owners should consider installing physical security systems. Security shutters not only limit a hostiles sight into the property, but also offer stronger protection than glass, and a more aesthetic security system than bollards.
CONCLUSION
We've recently been accredited an IWA 14-1 rating. The certification is a test method for rating a security product's performance when subjected to a single impact by a test vehicle.
It defines the vehicle type, test mass and impact speed, together with the required measurements; vehicle and test item details that need be recorded and reported.
Receiving this certification really is a representation to the commitment put into the calibre of our products.
Was this explanation of the IWA 14-1 accreditation easy to understand?
If you work in an environment involving ram-rated shutters and would be interested in finding more information on this article, please contact our team by filling out the form below:
Test content