Following many months of behind-the-scenes work, we are delighted to welcome you to our brand-new website!
Having previously offered our services over no less than three different sites, the purpose of our new website was to consolidate our product ranges, repurpose our expertise and to reimagine our company brand identity without diminishing our unique service offering.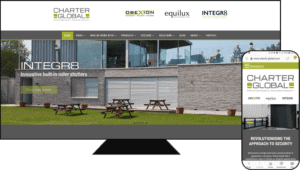 But what exactly has changed?
Charter Global have been around for nearly 14 years, going from strength to strength – literally. Now offering the discerning architect a plethora of specified security solutions, each association of Charter Global (Equilux, Obexion and Integr8) has undergone a face-lift along with the company itself. Take a tour of some of the new features on our website:
We have expanded our key product ranges.
Our site now offers relevant, in-depth detail of threat mitigation by sector.
As a company, we are continually growing and taking on new employees.
Dedicated technical areas offering product datasheets and other technical information including DWG format drawings.
Our new website is in fact one small part of a much larger, company-wide branding project. Armed with a fresh identity including logo, those familiar with Charter Global may recognise how our core values resonate through our new branding. Keeping design in thought and security in mind, every element of our fresh identity and website has been been built to inspire a proactive approach to integrated security.

For new visitors – hello! – our new website readily offers key information from our resident experts. Engineers and designers through-out our business have provided relevant, helpful advice for approaching physical security measures dependent on threat covering all risks including Ballistic and Blast, and we will begin to offer further insights right here on our blog.
One area of our site that we are particular proud of is our Technical Areas. Previously, our technical areas only included minimal information for our singular product range of shutters. Through each product page, you will be able to access all of the technical information for that product including the Product Datasheet, DWG format drawings, any relevant security accreditation testing methods, and other necessary structural details such as lintel types.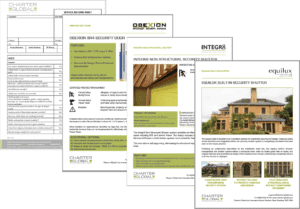 Charter Global's new look and feel has absolutely been a team effort and is something every member of the Charter Team has come to be proud of.
Please do not hesitate to let us know what you think; we'd love to know what you think and welcome all feedback!