Obexion SR3 Door
Product Description
The Obexion SR3 Security Door, tried and tested to performance level 3 by the Loss Prevention Certification Board (LPCB) is suitable for applications of medium- to high-risk profiles.
With the Obexion SR3 Doorset range, various locking options are available to combine customer capability and requirements. As security doors must not only ensure secure enclosures whilst at the same time enable movement, there must be a suitable access measures such as control panels or locking system. Obexion SR3 Security Door features range of single and single point locks and multipoint locks or secondary locks for peace of mind.
Additional options include various DDA (Disability and Discrimination Act) compliant vision panels.
Unique Features
Various locking options available

Hardwearing and robust finish options

Certified to LPS 1175: Issue 7 Security Rating 3
Features
Tailored finish to suit building design
With various finishes and colours available, the Obexion SR3 Door is suitable to be integrated within existing commercial properties without detracting from aesthetic. Customisation options include textured and woodgrain effects, along with full RAL/BS colours.
Bespoke locking features
Beyond the single lock and multipoint (or secondary) options, which include panic escape, manual, automatic and electromechanical deadlocking, the Obexion SR3 security door offers a variety of external access options have been developed so to include Pickersgill-Kaye and Surelock McGill systems.
Wide scope of certified configurations
Various certified configurations include single or double outward opening doorsets, single or double inward opening doorsets and single or double outward opening with removable overpanels. Various closers, stays and hinges also available on request.
How to assess what security rating is needed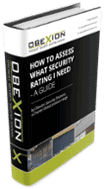 Download the guide