Obexion MD SR4 Shutter
Product Description
Designed for high-risk applications, the Obexion MD SR4 Shutter resists a sustained and experienced attempt at forced entry using an extended range of hand and power tools.
The Obexion MD SR4 Shutter features LockDown technology that requires no auxiliary locking to maintain the security rating. This ensures the shutter is never left in an insecure position, facilitating operation of the shutter as a first point of entry.
EDIT can be installed internally and externally – only externally fitted
Unique Features
Available with unique features including dual-speed shutter system, RapiDeploy

Certified to LPS 1175 Issue 7 SR4

Secured by Design Police preferred specification
Features
High performance security solution
The Obexion MD SR4 Shutter is a extremely durable, high performance security solution applicable for properties facing extreme risk. Intrinsically designed to protect high-profile facilities, products certified to this standard provide high resistance to experienced and determined intruders, as well as acting as an visual deterrent.
Withstand deliberate attack up to 30 mins
The Obexion MD SR4 Shutter is suitable for high-risk buildings that face significant risks. Tested and certified to LPS 1175: Issue 7 SR4, this security shutter is effective at mitigating attacks of Bodily Force and a wide selection of Power Tools, such as jigsaws, disc grinders and drills.
Integrate within any application
The full range of compatible controls include push button switch, key switch, radio control or with possibly integration into building management systems and third party alarms. Further features include RapiDeploy available for applications requiring dual-speed closure.
How to assess which security rating is needed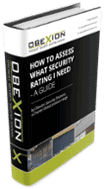 Download the guide