Integr8 Structural SR2 Shutter
Product Description
The Integr8 SR2 security shutter is an independently tested and certified product to LPCB 1175, Issue 7. Tested under the stringent Loss Prevention Standard to security rating level 2, the shutter system is recognised by Secured by Design as a police preferred specification.
Secured by Design shutters certified to security rating 2 are rigorously tested to simulate an attack by a determined opportunist attacker in areas of high domestic risk using bodily force and tools of a high mechanical advantage.
Unique to the Charter Global range of security shutters is the LockDown technology. Incorporated into all Integr8 Secured by Design shutters, this means no secondary locking is required to the shutters guides, meaning the shutters can be used internally as first points of entry.
Quick Facts
Tested to LPCB 1175, Issue 7, Level 2
Available as built-in, Integr7 SR 180LS and bolt-on, Integr8 SR 180C
No secondary locking to the shutter guides
Features
Constructed from extruded aluminium
The Integr8 Structural SR2 shutter is manufactured from extruded aluminium, supported by an bottom rail that contains strengthened core. This shutter system is recessed into the cavity of the external wall to complete with closer, ensuring an aesthetically pleasing finish.
Integrate with your building
The Integr8 Structural SR2  must be integrated within a building during the build developed stage of the project for maximum capability. Best suited for fast track, modular builds, this system can be integrating within the architectural frame through structural incorporation within the structural lintel.
Fully customisable colours and finishes
The Integr8 Structural SR2 Shutter can be manufactured completely to client and/or project preference. Both the lath profile and side guides are polyester powder coated and can be customised to any RAL/BS colour, creating a stunning finish that enhances that unique architectural flair of the property.
How to assess which security rating is needed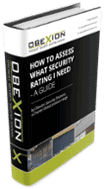 Download the guide