What Are Security Shutters? Security shutters are a physical security measure designed to protect a building or property.
A shutter acts as a strong physical barrier to prevent unauthorized access from potential intruders, vandals, and burglars. Ultimately, a security shutter will protect the people and assets inside the property from harm and theft.
A security shutter is made up of a curtain (laths), guide rails and a hood box. The design of a roller shutter can vary depending on the level of protection and the benefits it offers (for example a perforated lath for visibility and airflow, or patented designs for self-locking technology).

Shutters are mainly installed on openings such as doors and windows, with applications ranging from commercial, retail, and critical national infrastructure through to community buildings and residential properties.
Serving as a durable and visible deterrent, security shutters are highly effective and can be specified for both high-risk and low-risk properties.
What Are The Benefits of Installing Security Shutters?
Security
Security is the number one benefit when considering roller shutters. Depending on the security rating and quality of a shutter, it can mitigate and protect property from a number of threats including vandalism, intrusion, theft, and arson.
Security ratings are a way of grading how effective a security shutter is at delaying an attack.
Our shutters are certified to the LPS 1175 standard which uses different tool kits and different attack durations to categorise the security ratings.
Our Obexion range has been tested and certified to LPS 1175 SR2 through SR5 ratings.
As an example, SR2 rated shutters are suitable for protecting risks in domestic or commercial environments. They are designed to withstand attack by a determined opportunist using bodily force and mechanically advanced tools of medium size.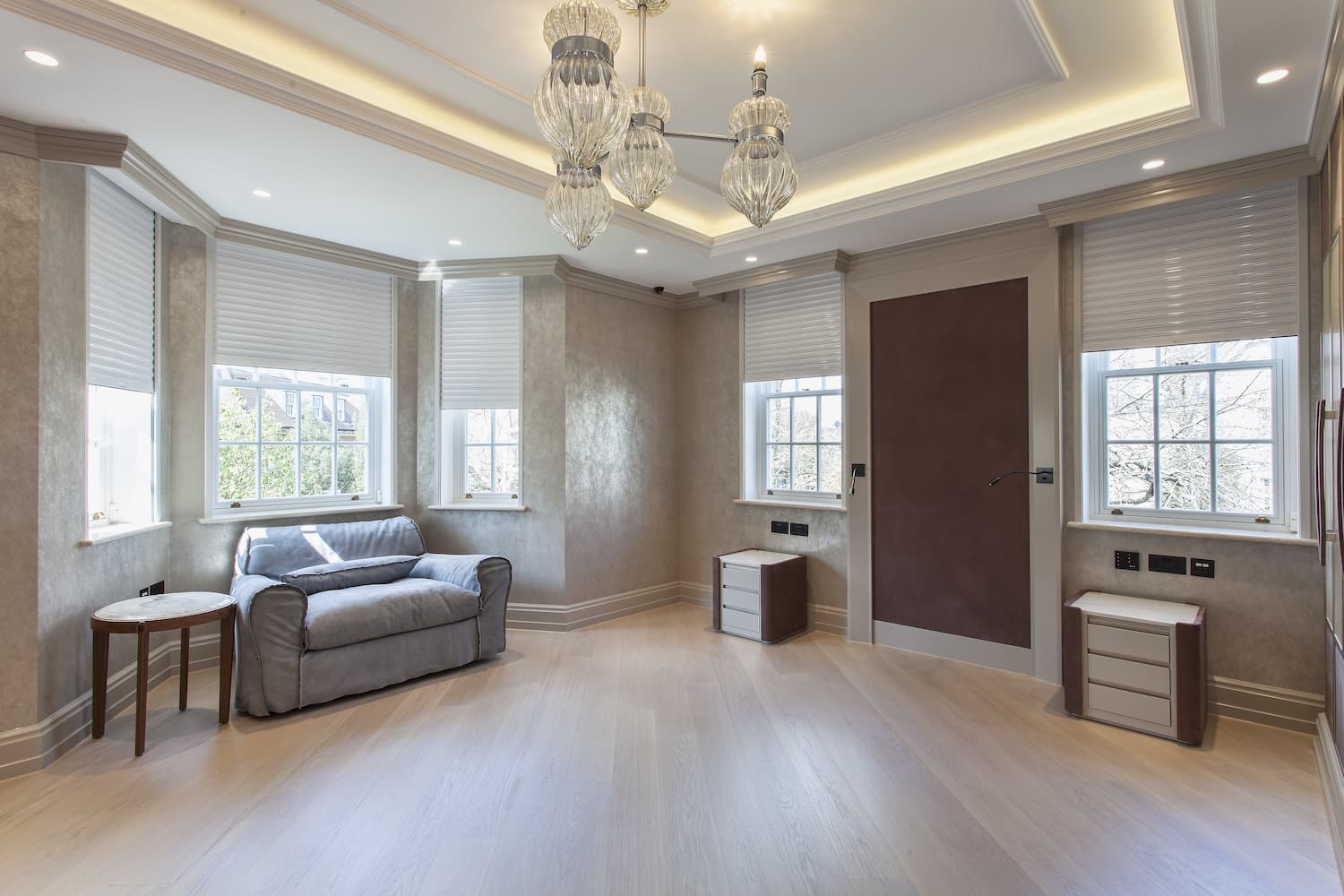 Whereas an SR5 shutter is suitable for high-value, high-profile buildings and facilities that face extreme criminal and terror risks.
A Visible Deterrent
Similar to security measures like cameras and alarms, security shutters act as an effective deterrent. When deployed, roller shutters make it obvious that the property is reinforced and will take longer to gain access. This discourages potential intruders from considering an attempt of a break-in.
Insulation
Some security shutters can feature thicker laths and insulated cavity closers. This helps to keep the inside temperature of a property warm when it's cold outside and cool when it's hot. In some cases, this helps save on heating or air conditioning costs.
Harsh weather conditions like strong winds, hailstorms and heavy rain are also issues a security shutter can help with.
Additionally, roller shutters with solid laths will completely block any light or visibility into the property, providing a complete blackout solution and privacy.
Style and Aesthetics
Long gone are the days when a security shutter had to be bulky and unsightly.
Security shutters are now manufactured to more aesthetic finishes. When specifying a roller shutter, the user can choose from a range of lath profiles, colours, sizes, and textures.
The shutters can be completely tailored to complement the design and architecture of the building.
Our intelligent security shutter system can integrate within a property's existing construction, concealing the hood box and guide rails within the ceiling and wall cavities. This allows the shutter to be completely hidden from sight when not in use.


Side note: integrating security shutters is ideal during the build stage. Where this is not possible because the original building design does not allow for it, external shutters massively widen your installation options.
In many applications, externally fitted roller shutters allow the maximum clear opening height and width to be achieved.
Insurance Premiums
The value of an insurance premium for a home or business will depend on a number of factors. One of these is the level of protection a property has. The better security around a property, the cheaper the insurance premium will be.
Types of Shutters and Materials
Roller shutter types will depend on different categories, like materials, functionality, form of integration, application, etc. But as a broad coverage, the main types of shutters are:
Security rated shutters
Fire-rated shutters
Interior Roller Shutters and Exterior Roller Shutters
Manual Roller Shutters and Automatic Roller Shutters
Built-In and Built-On Roller Shutters
Aluminium roller shutters
Steel roller shutters
Perforated shutters
Industrial Roller Shutters
Commercial roller shutters
Main Types of Shutters
If a building is exposed to specific risks, then it's vital to choose security rated shutters that meet certain requirements.
Security shutters can achieve ratings through recognized physical security standards – like LPS 1175 and Secured by Design.
The LPS 1175 standard is divided into eight security ratings with test requirements of ascending intensity. These are measured through different tool categories and attack durations – enabling specifiers to select products that guarantee protection from specific risks. Our Obexion range offers roller shutters certified to SR2 through to SR5.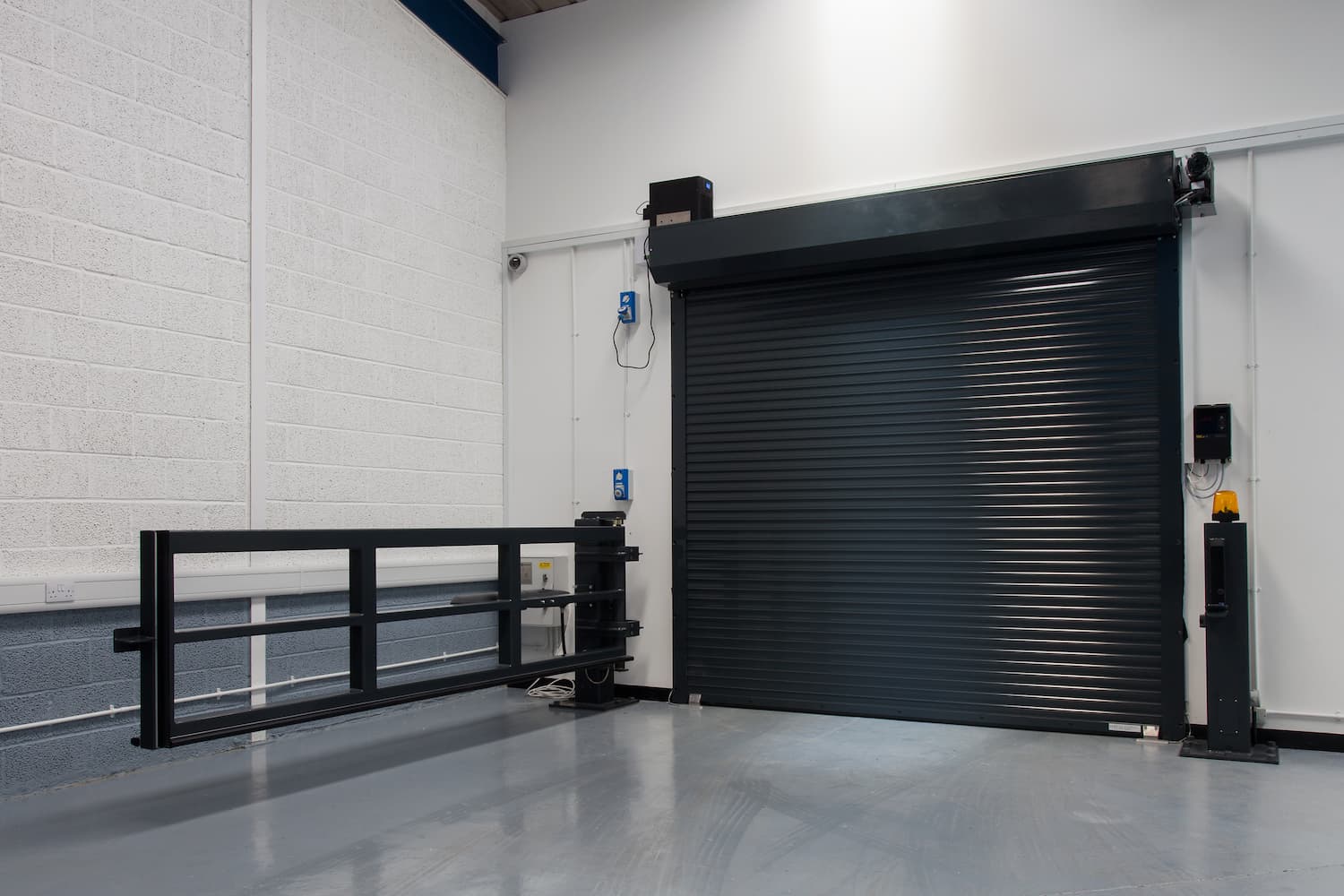 SR2
Based on medium domestic risk and lower commercial risk. Products certified to this security rating provide resistance to opportunist attempts at forced entry, using bodily physical force and a range of hand tools, including those that create noise.
SR3
Based on low commercial risk. Products certified to this level of security provide moderate resistance to determined attempts of force using a physical force and a wide range of hand tools with a more significant mechanical advantage, including those that create noise.
SR4
Based on medium commercial risk. Products certified to this level provide resistance to experienced determined attempts at forced entry using a wide range of hand tools and battery power tools, with a disregard for noise created.
SR5
Based on a high commercial and mission-critical risk. Products certified to this security rating provide resistance to experienced determined attempts at the forced entry for extended periods, using a range of powerful battery tools lasting up to 10 minutes.
Roller shutters can be installed as built-in or bolt-on.
A bolt-on shutter features an external headbox and is typically used for the existing build where there's insufficient space for integration within the original structure.
On the other hand, built-in shutters can be integrated within the lintel or beam above an opening. Built-in shutters are generally more aesthetic and feature access panels for maintenance.
Perforated roller shutters
Shutter laths with hole punches are also a popular option. For example, if a homeowner requires a security shutter that can still be put to use even when indoors, a perforated shutter will allow vision and airflow through the property.
This can be particularly beneficial when doors and windows are open, but security is still needed.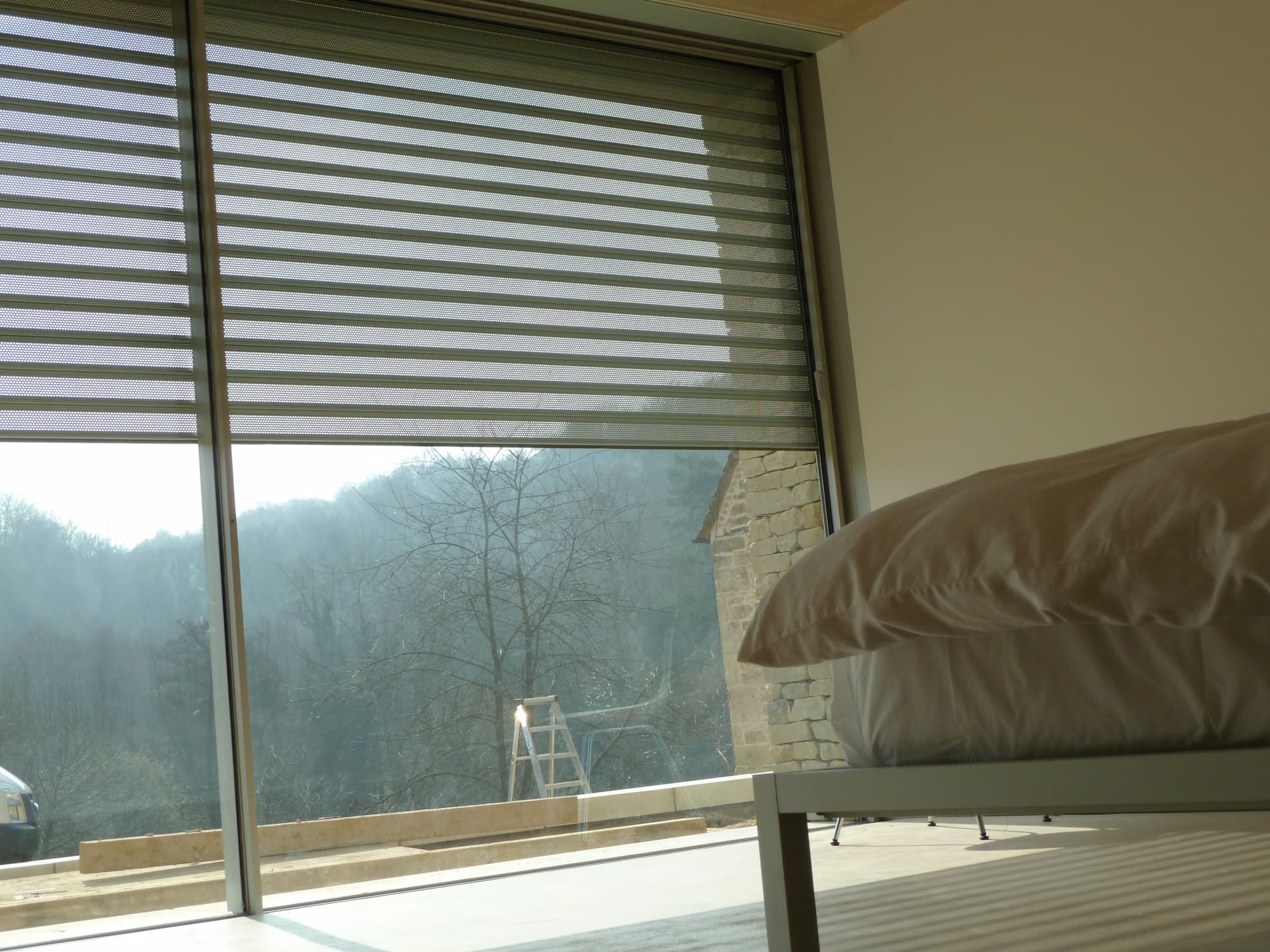 Our ultra-prime residential range of shutters, Equilux, offers an optional CompactDUO Premium lath profile which caters for ventilation and solar control through expanding perforated profiles without having to open the shutter.
By including the expanding perforated profile at intervals across the shutter, the shutter ensures privacy without the feeling of being secluded.
Our Obexion UD SR2 shutter is the only security roller shutter on the market to be certified to LPS 1175: Issue 7 with perforated options that allow for ventilation and visibility when desired, like promoting merchandise during closed hours.
What are Security Shutters Made Of?
The most common material for security shutters is aluminium, although options for steel and wood are also available. Aluminium offers a variety of benefits:
Aluminium is lightweight, actually 3 times lighter than steel. Even with the difference in weight, the material is still extremely strong.
The lighter weight also makes aluminium more energy efficient during the operation of the shutters and therefore reduces its carbon footprint.
Aluminium's surface is more versatile for treatments like anodising, painting, and other customization processes. Anodised finishes are optimal for corrosion resistance, especially for properties in harsh weather locations (for example coastal properties).
Aluminium is highly recyclable and doesn't lose any of its essential properties throughout the process.
On the other hand, steel is known for its strong and excellent tensile strength. Steel shutters are naturally more resistant to corrosion and harsh weather conditions. Superior insulation capability is also a benefit of steel shutters.
Points to Consider While Choosing Security Shutters
Level of protection
The nature of a property is a good starting point for determining the level of protection it requires.
For example, an ultra-prime residence will not necessarily require a security rated shutter but rather a shutter secure enough to protect against opportunistic attacks and capable of delaying any attempt long enough for local authorities to respond or for the intruder to give up.
When it comes to securing a museum or art gallery, the high-value exhibits will require security shutters certified to LPS 1175 SR3.
High profile locations such as government buildings will consider an SR5 certified shutter that could withstand terrorist attacks.
An evaluation of what you're protecting and researching the potential threats is essential to understand what type of security rated shutter you need.
Accurate measurement
Correctly measuring the openings where the shutters will be installed is vital. There are 2 types of dimensions: opening dimensions and overall dimensions.
If your supplier of choice doesn't offer a site survey for measurements first, we highly recommend you ask for one.
Knowing the accurate measurements will benefit the overall process and guarantee a roller shutter is installed correctly and that it provides the appropriate protection.
Vision and ventilation
For security purposes, roller shutters mainly use solid laths, but a number of properties will have ventilation requirements. For example, car parks have high levels of heat and fumes which must be extracted, so airflow is an important consideration. Vision and solar control are also requirements to keep in mind.
Finishes
Security shouldn't have to compromise design or aesthetics. When specifying a security shutter, make sure to browse all of the style options:
Colours
Matt or gloss finishes
Anodised
Wooden effect finishes
Solid or perforated laths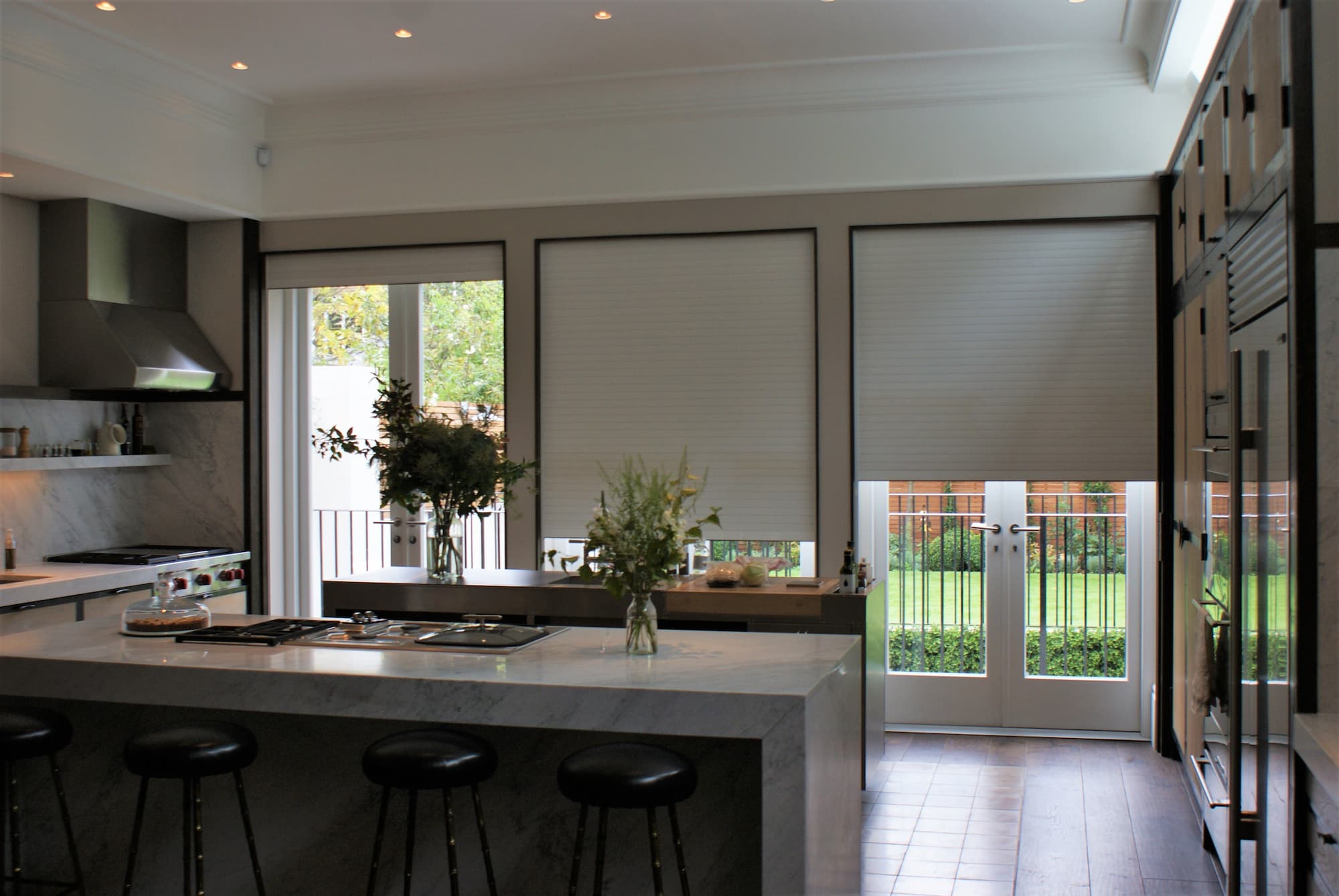 Control options
Building usage and requirements are important to consider when choosing control options. Top-level options include integration with building management systems, remote control or standard switching.
Final Tips on Choosing Security Shutters
Before officially purchasing a security shutter, we encourage you to review these points to ensure the shutter meets your requirements:
Has the shutter been tested to LPS 1175 Issue 7 standards, and achieved an SR rating that will protect against all anticipated threats?
Does it meet your site's sector/industry-specific risk requirements?
Can the shutter interface with other, third-party security systems?
Can it be installed discreetly and aesthetically?
Does the shutter allow for an external first point of entry?
In an emergency, can it be deployed quickly enough to deny access to attackers?
Does your supplier offer long-term maintenance agreements and 24/7 support?
Conclusion
At Charter Global, our focus remains on protecting people from harm and property from destruction.
Mitigating a range of low to severe risks, we focus on delivering results for a number of niche sectors.
We offer a full product range through three brands: Obexion, Equilux and Integr8.
Our Obexion product range offers the most comprehensive collection of independently certified shutters on the market.
Equilux is our unique security shutter offering styled for prestigious residential properties.
Integr8 Security Shutters are a specialist range of roller shutters for local government sectors including community, healthcare and education.
Check out our wide range of security shutters or get in touch with us. Feel free to drop us a line on 0845 050 8705 or email [email protected]